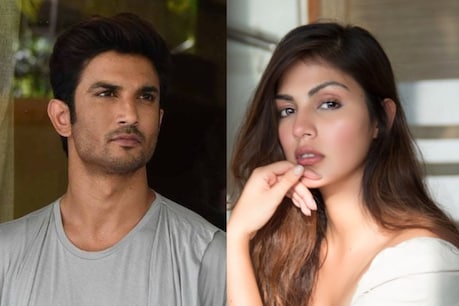 Sushant Singh Rajput, Riya Chakraborty (Photo Credit- Sushantsinghrajput / rheachakraborty / Instagram)
Rhea Chakraborty has questioned Meetu Singh (Sister) sister of Sushant Singh Rajput (Meetu Singh).
Last Updated:August 28, 2020, 10:08 AM IST
Mumbai.
Riya Chakraborty (Rhea Chakraborty) has now come in front of the media regarding the Bollywood actor Sushant Singh Rajput case. Sushant's family had filed an FIR after making serious allegations on Riya, after which he is under questioning. Meanwhile, many shocking revelations related to Riya are also being made on social media and news channels. At the same time, when Riya has come to the fore, she has put her point on many questions. Meanwhile, Riya has asked a question to Meetu Singh (Sister) of Sushant Singh Rajput, in response to a question.
Riya Chakraborty Has made many shocking revelations in his interview. At the same time, one of the E-Times Report If we believe that Riya was asked during the interview, what is her opinion on Sushant's suicide and murder debates, then Riya asked Sushant Singh Rajput's sister Mitu Singh the same question. Mitu Singh was with Sushant from 8 to 13 June. Riya said that she also wants to know about Sushant's sister, what happened. Riya says that she left the house on 8 June but her sister had been with her.
Let me tell you that this Riya Chakraborty has come in front of the media for the first time and as soon as she has come, she has questioned her relationship with Sushant Singh Rajput's family and her sisters. Apart from this, Riya has also attacked Sushant's ex girlfriend Ankit Lokhande. However, both Sushant's sister and Ankita Lokhande have given a befitting reply to Riya through social media.
Riya Chakraborty raised a finger on Sushant's sisters, then he heard them thoroughly on Riya's allegations with proof. Sushant's sister Shweta Singh Kirti shared the post on Instagram. At present, CBI investigation is going on in this case and Riya Chakraborty is the main accused in this case. They have been accused so far.